Archery Hire
Mobile Archery hire and Archery Taster Sessions
Our mobile archery sessions are suitable for all ages from 8years to adult. No previous archery experience is necessary as our trained archery staff will provide full instruction and also ensure a safe shooting environment for both participants and spectators. We use modern recurve bows which we have available in a range of sizes and strengths for both right and left handed archers, junior and adult. All shooting areas are protected with arrow proof safety netting to prevent stray arrows.
Our mobile archery sessions are perfect for corporate events, team building, general fundays and also youth groups.
Hovering Target Archery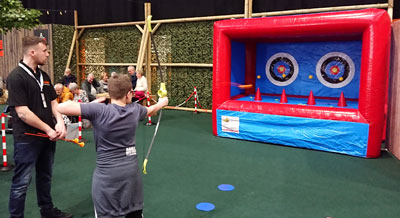 Using specially converted arrows with foam tips try and shoot down the balls that hover in an airstreams coming from the inflatable.
This game can be used both indoors and outdoors and with a range a bow sizes plus crossbows for the really small children it can be played by all ages.
Archery Tag
In Archery Tag two teams compete against each trying to the be first to knock down all of the opposing teams targets or 'tagging' all of their team members with arrows. The arrows are all foam tipped for safety, faceguards are provided, and each team has three large inflatable bunkers to take cover behind.
This game is suitable for ages 10 to adult.
Contact us here for Archery Hire
If you have any queries, questions, or would like to book a mobile Archery session please call us on the number below or click to enquire and we will do all we can to help.

If you're holding a medieval themed event why not take a look at the Medieval themed Wrecking Ball we also have for hire?

Tel: 07976 256 702 or 01283 792 974
Lichfield Inflatables
Furlong Close, Alrewas, Lichfield, Staffs, DE13 7EF

All wording, phrases, and pictures are copyright of Lichfield Inflatables. Those copying our text or images will be pursued through all legal channels available.