Wild West Theme Hire
Are you looking for Wild West theme hire? Well then look no further as we offer a variety of Wild West theme games. All of the games below can be hired either individually or alongside a Rodeo Bull.
Hire more than one Wild West theme game and we will give a discount on the full hire price.
Click to view details on Wild West theme games on offer: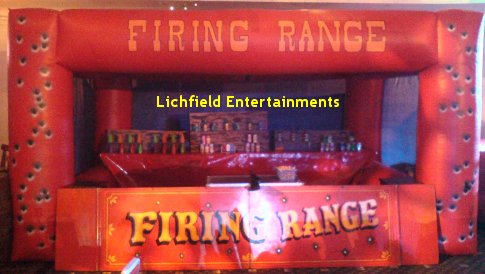 Cork Gun Shooting Range
Cowboy or Indian? Its your choice with this great inflatable shooting range designed to our own specifications and especially developed for use alongside the Rodeo Bull for that extra Wild West fun.
If you're a cowboy you try to shoot the cans off the range, and knock down the targets with cork guns. If you're an Indian you do the same but with a Bow and Arrow.
This inflatable shooting range has been designed with safety of paramount importance and the range is fully enclosed to prevent stray arrows and corks escaping! The cork gun shooting range requires an overall operating space of 18x15ft and height clearance of 9ft. Its suitable for ages 5 - adult. Hire today!
So what are you waiting for? Hire your Wild West theme entertainment today and get your party started in the right direction. If you have any queries, questions, or would like to make a booking please call us on the number above or click to enquire and we will do all we can to help.

Tel: 07976 256 702 or 01283 792 974
Lichfield Inflatables
Furlong Close, Alrewas, Lichfield, Staffs, DE13 7EF


All wording, phrases, and pictures are copyright of Lichfield Inflatables. Those copying our text or images will be pursued through all legal channels available.